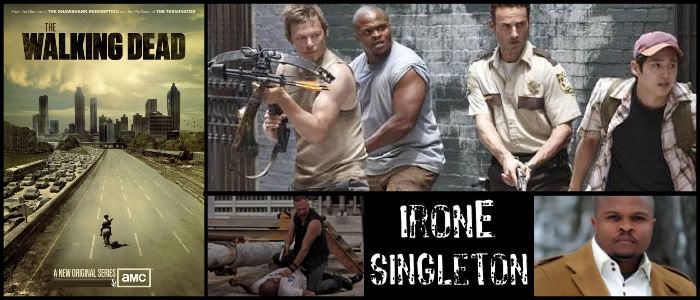 10/12/11 - IronE Singleton of AMC's The Walking Dead
Julie and Robin have a new crush, and he goes by the name of IronE Singleton. (Sorry, Debbie Rochon!) IronE plays T-Dog on AMC's hit show The Walking Dead, and is quite possibly one of the sweetest souls we've encountered since doing the show. We talked to IronE about the show, and even made a wager on whether or not his character will be killed off in Season 2. You may also recognize IronE as the total badass in the feel-good family film, The Blind Side.
You didn't fool Sandra Bullock. Nor did you fool us, IronE!
Need any more of an incentive to listen to the show than we have already given? IronE does a little impromptu rap for us of his song, "We Are the Walking Dead." That's right...he raps for us.
Website:
Twitter:
@ironesingleton
From IMDB:
Best known to audiences as the menacing thug Alton in the 2010 Academy® Award-nominated film The Blind Side, IronE Singleton's ability to play strong, multidimensional characters has made him a memorable actor in both film and television.
Singleton most recently appeared on the big screen alongside Bow Wow and Ice Cube in Lottery Ticket. In 2011, he will be seen alongside Nicolas Cage, Guy Pearce and January Jones in the feature film The Hungry Rabbit Jumps. Singleton's talent has been on display recently in several television pilots, including ABC's "Detroit 1-8-7," VH1's "Single Ladies," and TNT's "Franklin & Bash." Among his other television credits are CW's "One Tree Hill" and BET's "Somebodies."
Born and raised in Atlanta, GA, Singleton's story embodies everything we have come to understand about the lives of many inner city youth growing up in low-income housing projects. Having lost his mother to HIV/AIDS when he was a senior in high school, and watching his brother spend most of his life in Georgia's prison system, IronE fought to have a life far different from the one he knew growing up. The "irony" of his story is that, while all the odds were stacked against him, IronE Singleton still overcame his troubled childhood to attend the University of Georgia on academic and football scholarships, where he completed a double major in Theater and Speech Communications.
Prior to breaking into film and television, Singleton put on a one-man theater show entitled IronE... The Resurrected, which garnered rave reviews. In his spare time, Singleton is a Youth Motivational Speaker and youth sports referee.
Singleton divides his time between Atlanta and Los Angeles with his wife and children.